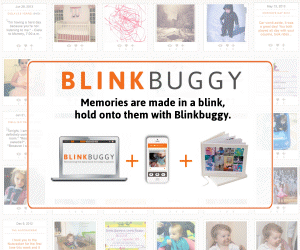 As parents we are documenting our lives more than ever before and it quickly becomes overwhelming. Instead of one, thoughtful and focused baby book per child, today's parents have 10,000 photos on a hard drive, 1,000 one-off shares on Facebook, 100 related emails and comments from family and close friends, 50 video links on YouTube, etc. -
GET IT HERE TODAY !!!
What:
Blinkbuggy
is a technology that helps moms by making it easy and fun to collect and connect all the most important moments and create meaningful stories, all in one place, that can be shared now, printed into beautiful memory books as well as passed on to the next generation.