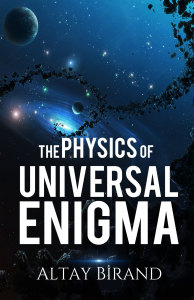 I spent some good quality time reading this book The Physics of Universal Enigma -
over the Holiday Break. I will tell you its a very interesting and deep book. The Author goes into great detail and makes you really stop and think about the physics and how things in our universe work.
Where do we come from? How did life really begin? Is this Authors focus on writing this book. Those are some pretty deep questions. I guess even I , have up until reading the book did not give too much thought to it , until now !! This book has certainly opened my eyes up to a new way of thinking.
I found the book very easy to read , understand and follow. It definitely is not a one stop book, you will want to pause and think alot, discuss with others as well.
I felt like the book kept my attention and left me wanting more!!!
Description
Regardless of your educational acumen, philosophy or faith, Birand offers food for thought that may challenge you to apply your own understanding of what defines mankind and what your place is in the universe.
Read an excerpt from the book
.
About the Author
ALTAY BİRAND received his engineering education at the University of Birmingham in England and the Middle East Technical University (METU) in Ankara, Turkey. He then spent 41 years teaching at METU, and he also taught at the Iowa State University in the United States, concurrently working as a consultant during his teaching tenure. A philanthropist and an author, he has published three books on historical-social subjects. read more her
The Physics of Universal Enigma
, is available on
Amazon.
Disclosure:
This blog may received products mentioned for no charge and/or accept compensation Regardless, all reviews and opinions are my own.