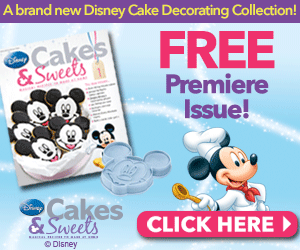 FREE Introduction to Disney Cakes &. Sweets Magazine! Over a $30 Value!
• FREE Premiere Issue of Disney Cakes &.Sweets Magazine
• FREE Mickey Mouse Cookie Cutter
• FREE Winnie the Pooh Silicone Molds
Grab your FREE Complete Bakeware Kit for Magical Disney Creations!
Get your FREE introduction today! Includes premiere issue of Disney Cakes and Sweets magazine, a Mickey Mouse cookie cutter & Winnie the Pooh silicone molds! Over a $3
Magical Recipes to Make at Home! FREE Disney Cakes & Sweets Welcome Package!
Includes premiere issue of Disney Cakes & Sweets magazine, a Mickey Mouse cookie cutter &. Winnie the Pooh silicone molds! Over a $30 value, pay just $4.95 shipping